CDT Cutting Oil
30.11.1999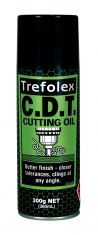 BETTER FINISH - CLOSER TOLERANCES, CLINGS AT ANY ANGLE.
Trefolex C.D.T. Cutting Oil is ideal for the critical machining of  non-ferrous  metals  for  all  operations  in  Machinability.
Group 1:  Nickel alloys, nitro alloy steel, cast irons and  alloy steels up to 200 Birnell.
Group 2:  Stainless steels, "monel" metals, cast irons  and alloy steels of 200 or 300 Birnell.
Trefolex  C.D.T.  Cutting  Oil  leaves  an  anti-corrosive residue.